Plaza named a Finalist in the 2016 Homeowners' Choice Awards
March 29, 2016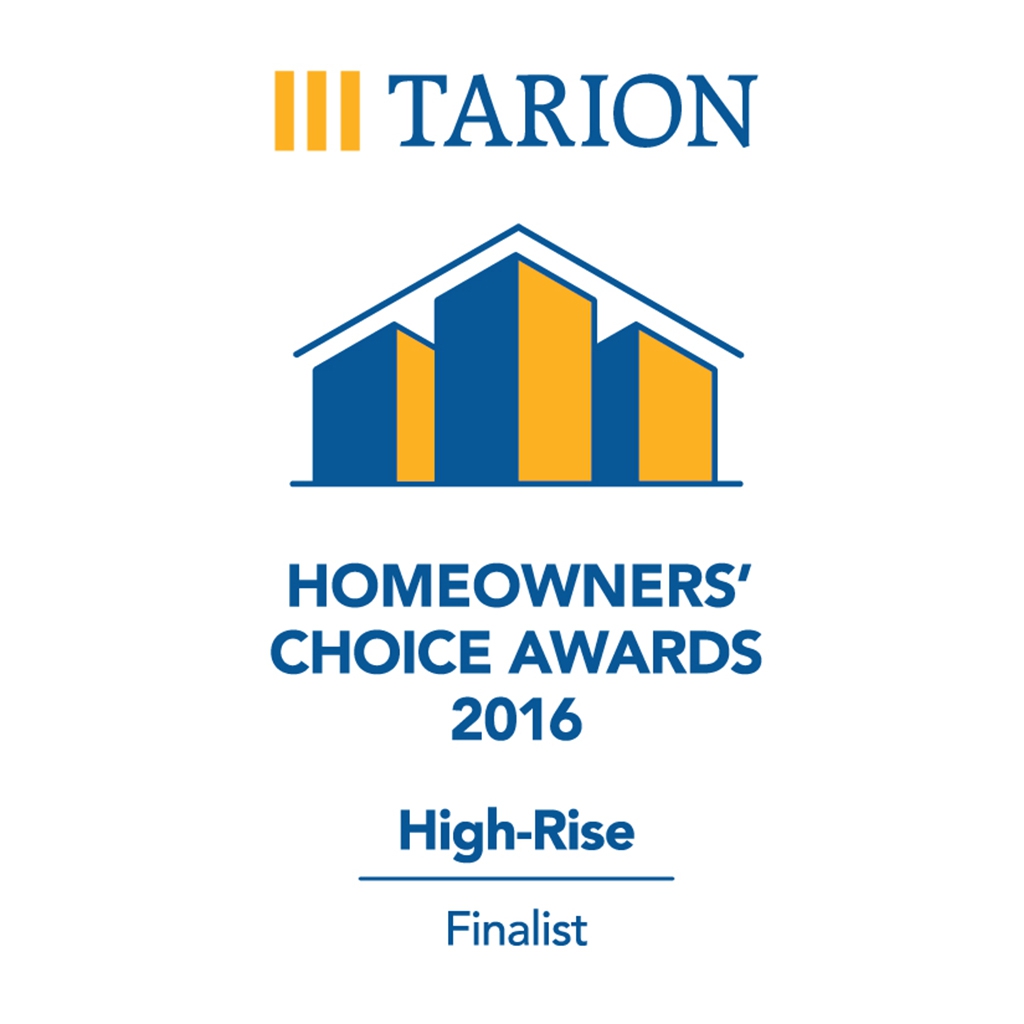 Plaza has been named as a finalist in the 2016 Homeowners' Choice Awards, presented by Tarion. These are the only awards that give Ontario's new home buyers the power to have their new home builder recognized for customer service excellence.
Formerly known as the Tarion Awards of Excellence, the Homeowners' Choice Awards recognize each year a builder's excellence in customer service in four categories: Small, Medium, Large Volume and High-Rise. The process for selecting finalists has not changed, only the name has changed to better reflect how the award recipients are chosen. Plaza was recognized in the High-Rise category for having 395 possessions in 2015.
"These awards have always been about new home buyers in Ontario and their level of satisfaction with their individual builder," said Tarion President and CEO Howard Bogach. "Changing the name to the Homeowners' Choice Awards simply reflects the importance of the customer's experience in the new home buying process, and how each and every home buyer can have a say in whether a new home builder receives recognition," adds Bogach.


"As a company our commitment to deficiency free homes has become our mission statement," said Scott McLellan, Senior VP of Plaza. "Our trades, suppliers, consultants, customer care team have clearly maintained and exceeded our mission statement of zero deficiency and commitment to our purchasers."
Finalists were determined based on the results of a comprehensive survey sent to more than 56,000 Ontario homeowners who took possession of a new home between October 1, 2014 and September 30, 2015. Almost 12,000 completed survey responses were received, representing a high response rate of more than 21 per cent. The results were tabulated by Crunch Research and Nielsen.
Survey questions focused on homeowners' satisfaction with their builder, covering every stage in the homeowner-builder relationship from the signing of the Agreement of Purchase and Sale, through construction and the pre-delivery period, to after-sales service.


According to Bogach, "This year marks Tarion's 40th anniversary of protecting new home buyers in Ontario. Throughout the decades, we've witnessed home buyers having an increased impact on the new home buying experience based on the decisions they make. The Homeowners' Choice Awards reflects the importance of their opinions, and champions excellence in customer service."
To qualify for the Awards, builders must have at least five new home possessions during the survey timeframe and a specified number of completed questionnaires must have been received.
Award recipients will be announced at a luncheon in Toronto on Thursday, April 28, 2016.
For more information and a complete listing of finalists for the 2016 Homeowners' Choice Awards, presented by Tarion, visit Tarion.com.