Plaza named a Finalist in the 2018 Homeowners' Choice Awards
March 14, 2018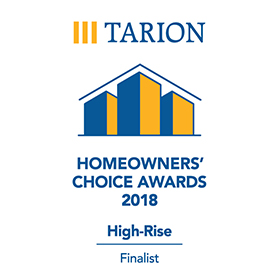 TORONTO, ON, March 14, 2018 – Tarion is pleased to announce the finalists for the 2018 Homeowners' Choice Awards, the only awards that give Ontario's new home buyers the power to have their new home builder recognized for excellent customer service.
Presented by Tarion, the awards recognize outstanding customer service in four builder categories: Small, Medium, Large Volume and High-Rise.
"The journey to homeownership can be bumpy or smooth depending in large part upon the builder," said Howard Bogach, Tarion President and CEO. "These awards are an opportunity for owners of newly built homes to recognize the builders who made that journey rewarding and enjoyable through service excellence."
Every fall, Tarion engages a third-party research firm to conduct a province-wide customer satisfaction survey of new home owners in their first year of ownership - specifically, homeowners who took possession between October 1, 2016 and September 30, 2017.
More than 56,929 invitations to complete the survey were sent by email and post. More than 11,558 completed surveys were returned, representing a response rate of 20 per cent.
Survey questions focused on homeowners' satisfaction with their builder, covering every stage in the homeowner-builder relationship - from the signing of the Agreement of Purchase and Sale, through construction and the pre-delivery period, to after-sales service.
To qualify for the Awards, builders must have at least five new home possessions during the survey timeframe and a specified number of completed questionnaires must have been received.
Award recipients will be announced at a luncheon in Woodbridge on May 1, 2018.
Plaza is proud to be a finalist in the High-Rise award category.
Like Tarion on Facebook or follow us on Twitter or Instagram for more information about the 2018 Homeowners' Choice Awards.