October 05, 2018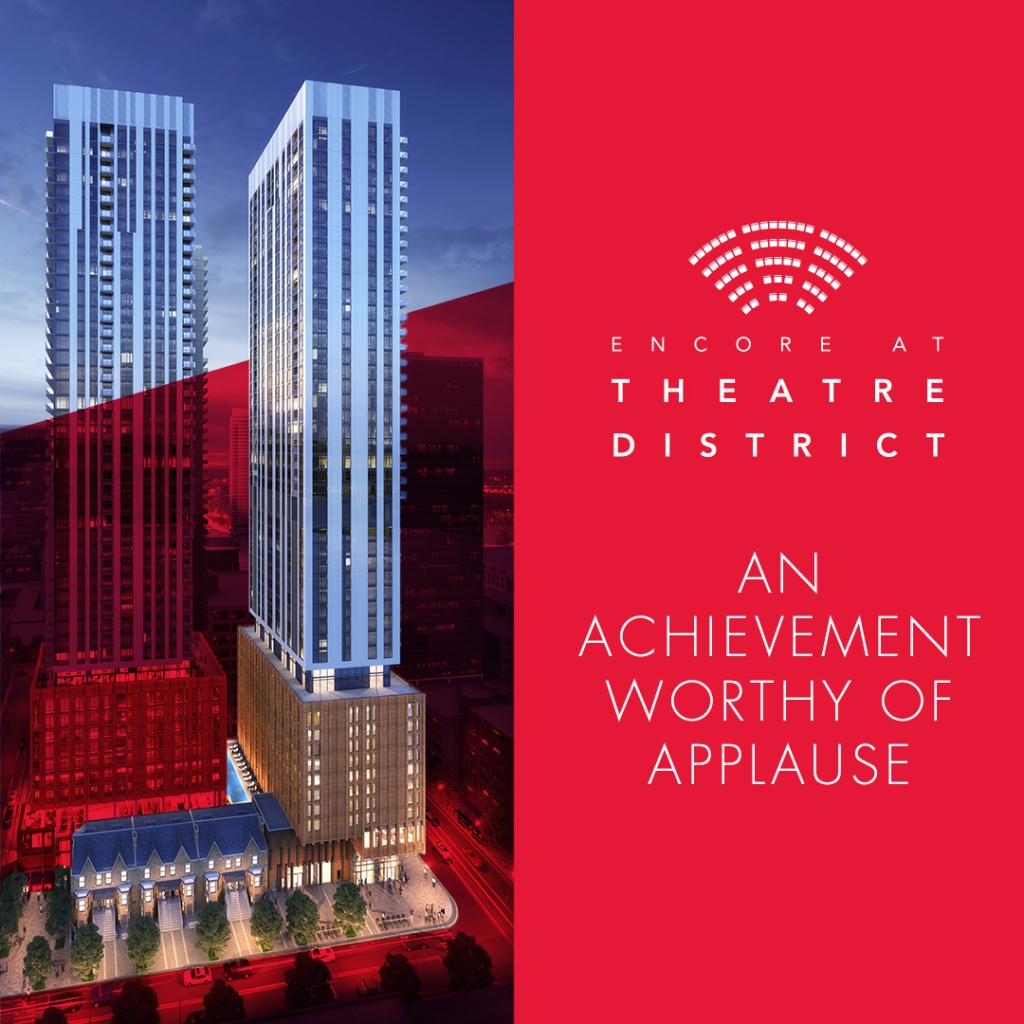 An Achievement Worthy of Applause

The Encore at Theatre District is now Open
Encore at Theatre District is now open for a limited time release of approximately 120 units. Live amid the excitement of the theatre district with suites ranging from a 1-bedroom + den to 3-bedrooms and featuring world-class amenities. Residences will occupy a premium location in Toronto's exclusive and highly sought-after downtown core with both modern luxury and existing streetscape in mind.
Over the past few years, the Entertainment District has been the fastest growing neighbourhood in the GTA. With an expecting growth of 15,000 jobs between 2018 to 2022, the opportunities for career growth are prosperous. Toronto's Entertainment district also offers residents endless nightlife options and easy access to an astonishing array of restaurants, eateries, pubs, bars, and nightclubs. Also surrounded by the Royal Alexandra Theatre, Princess of Wales Theatre, TIFF Bell Lightbox and Roy Thompson Hall, The Encore is perfectly positioned in the beating heart of the city and promises a lifetime of excitement.
Visit our Sales Office today while select units remain.


VISIT TODAY
28 Widmer Street, Toronto, Ontario.
Monday – Thursday: 12 pm to 6 pm
Friday: By appointment only.
Weekends and Holidays: 11 am to 5 pm
Sales Representatives:
Helena Wong
Monica Anichini
Tel: 416.862.0888 x 6412
The future of Toronto is connectivity. There has been an astonishing 80% increase in travel demand in Downtown Toronto, and The Encore's flawless location positions residents to get everywhere they need to go seamlessly, and we've got the grade to prove it. With a perfect walk and transit score of 100, the Theatre District is designated as a "walker's and rider's paradise". Live front row to convenient public transportation that takes you anywhere in and outside the city.
Above all of the incredible amenities provided by Encore at Theatre District, is the Plaza promise. The promise to always build what we sell, to treat our customers right, and deliver quality homes of lasting value. Named the 2018 Tarion High-Rise Builder of the year, our commitment to excellence in innovation, design, and workmanship is how you can be assured Plaza is the right choice for your future. Your satisfaction is our greatest achievement.